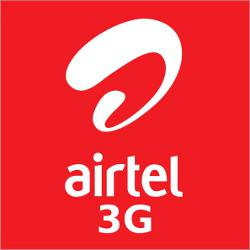 On 17th May, 2012 airtel has reduceds 3G data tariffs plan for postpaid and prepaid subscribers.
Reduced Tariff: A 2GB 3G data plan, previously available for more than Rs. 750 is now available for just Rs 450 with a 30 day validity. Volume based browsing rates on 3G have also been reduced from 10p/10kb to 3p/10kb effective from 17th May 2012.
Take a closer look at new chart.
Postpaid mobile customers will able to enjoy uninterrpted access to high speed browsing. Airtel has also introduced Smartbytes additional data usage for postpaid customers. In addition to Smartbytes, Airtel has also introduced 3G Snacking packs in which customers get to experience 3G data for Rs 10 for 30 minutes of usage over a 1 day validity period. Which means, customers who want to give 3G a try, can use it for 24 hours of subscribing to the pack. This probably is the     first time in the market for a company to offer customers a choice to subscribe incremental 3G data usage packs.